Pond Free
Savio Pond Free Packages are an excellent choice for homeowners seeking to upgrade their existing landscape. These recirculating water features are easy to install, very low maintenance, and offer unlimited design flexibility. Water flows downstream, along the Spillway, collects into a reservoir, and is pumped back up to the spillway. Pond Free Package Components are selected for compatibility and performance to provide enhanced aesthetics to you landscape. An ideal choice for families with children or pets without the precautions needed for pools.
Getting Started - The Pond Free® Feature Design Process
1. DETERMINE THE OVERALL SIZE AND LAYOUT OF YOUR FEATURE
2. MEASURE THE LENGTH (L) , WIDTH (W), AND AVERAGE DEPTH (D) IN FEET
3. CALCULATE THE WATER IN TRANSIT (WIT)
L = Total Length of waterfall and streamway combined
W = Average width of the streamway and waterfall
D = Average Depth of the streamway in feet (ex: 3" = 0.25' deep)
L x W x D= Cubic Feet of Water in Transit (WIT) note: 1 ft cubed of water = 7.48 gallons
(Ex: 5' Length (1'+ 2' + 6'' + 1' + 6'' = 5') x 2' Width x 0.25' Average Depth = 2.5 ft³ WIT 2.5 ft³ x 7.48 = 18.7 Gallons = round off to 20 gallons)
4. RECOMMENDED BASIN SIZE
We recommend a basin that holds 2.5x the amount of water in transit: 2.5 x 20 = 50 gallons
minimum depth must be as deep as pump vault/housing unit
5. SELECT YOUR POND FREE KIT AND PRODUCTS
We recommend utilizing Pond Free® blocks and a waterfall well to allow for a smaller basin. Each block accounts for 30 gallons and waterfall wells add 20 gallons.
(Example: If 50 gallons are needed for the basin, use one matrix block (30 gallons) and a pump vault of 20 gallons. Resulting in a basin size of 2' x 2' x 1.5') When a basin is filled with rock instead of using Pond Free blocks, the hole size is 5X Larger
(Example: 50 gallons x 5 = 250 gallons. Resulting in a basin size
of 4.5' x 4.5' x 1.5')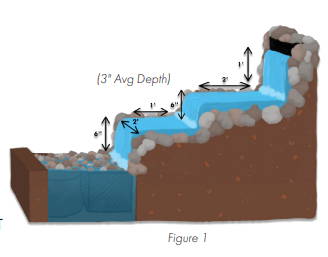 Don't forget to utilizing Pond Free® Blocks! Pond Free® Blocks offer a variety of benefits including a smaller project footprint and a lot less digging.
Product
Qty in Cart
Quantity
Price
Subtotal
Adding your products to cart